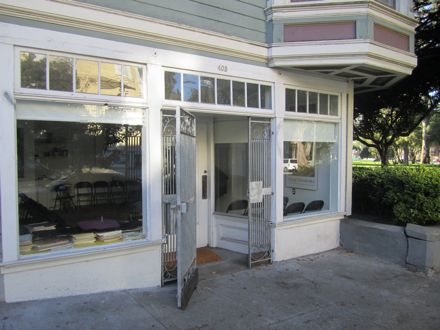 405 Shrader St. (Shrader at Oak)
Concerts at 405 Shrader are at 7 PM (the aperitif hour) and are about 50 minutes in length with a hosted aperitif following
If you wish to attend a concert, an RSVP to its announcement is absolutely necessary (space is quite limited). Reservations can be made only by email to 405Shrader@gmail.com and must be confirmed by 405 Shrader. There is no charge to enter 405 Shrader, however before you leave you will want to express your appreciation to the artist(s) — a minimum of $10 per person.
If you are not already on the mailing list (email only) please write 405Shrader@gmail.com to add your name. Note that concerts begin on time and that there is no late seating.
Spring 2014
Friday, April 4, 7 PM. ZOFO Duet pianists Eva-Maria Zimmermann and Keisuke Nakagoshi (four-hands-one-piano) perform Gustav Holst's Jupiter and Urmas Sisask's The Milky Way.
Friday, April 18, 7 PM. The One Art Ensemble soprano Ann Moss, violist Alexa Beattie and pianist Hillary Nordwell perform songs by Vartan Aghababian, John Woods Duke and William Bolcom.
Friday, April 25, 7 PM. Pianist Jason Chiu plays the four Chopin Ballads.
Friday May 2, 7 PM. Mezzo-soprano Betany Coffland and guitarist Aaron Larget-Caplan perform a program of songs by Rodrigo, De Falla, Hahn, Dowland and Britten.
Friday, May 9, 7 PM. Pianist Ian Scarf with Trinity Alps Chamber Players Kevin Rogers, violin, Douglas Machiz, cello, and Paul Miller, clarinet perform works by Brahms, Bartok and Mason Bates.
Friday, May 16, 7 PM. Phonochrome pianist Allegra Chapman, cellist Laura Gaynon, and flutist Elizabeth Talbert perform George Crumb's Voice of the Whale.
Friday, May 23, 7 PM. Katherine Heater, harpsichord and Amy Brodo, viola da gamba perform music from the French and German Baroques.
Friday, May 30, 7 PM. The Eusebius Duo pianist Hillary Nordwell and violinist Monika Gruber perform sonatas by Schumann and Richard Strauss.
Friday, June 6, 7 PM. Pianist Ellen Milenski performs the Beethoven Op. 111 and three Bach Preludes and Fugues.
Next Concerts Oct/Nov 2014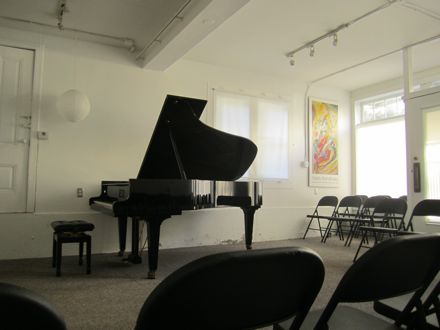 Piano at 405 Shrader, with seating for 40 guests
If you are a non-improvisational musician or performance artist and think you might like to perform at 405 Shrader please email your resume.
For information about 405 Shrader presenter Michael Milenski see www.CapSurOpera.com
Artists of the Spring 2014 Season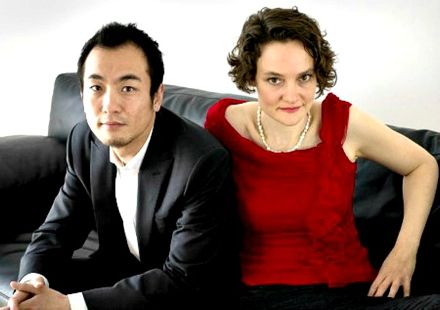 Swiss born and Geneva Conservatory trained pianist Eva-Maria Zimmermann received a Rotary International Ambassadorial Scholarship to the U.S. where she has become a San Francisco resident. She currently teaches at the Nueva School in Hillsborough. Japan born pianist Keisuke Nakagoshi earned a Bachelors degree in Composition and a Masters degree in Chamber Music at the San Francisco Conservatory of Music where he is currently Pianist-in-Residence. Both artists have independent careers as chamber and concerto performers. www.zofoduet.com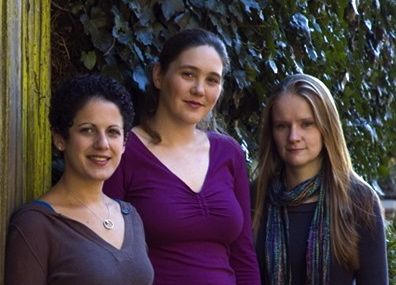 One Art Ensemble juxtaposes historic chamber music and art song with new works by living composers for voice, piano and viola. The ensemble has commissioned works by Boston composer Vartan Aghababian, Bay Area composer Liam Wade, Miriam Miller, L.A. composer Weslie Brown. As ensemble-in-residence at U.C. Davis they premiered six new works by PhD candidates in composition. The ensemble has performed at Old First, Old St. Mary, Noe Valley, Bard College among other venues. www.oneartensemble.org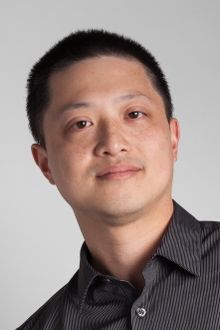 Bay Area native Jason Chiu earned his bachelors of piano performance at U.C. Berkeley where he performed the Saint Saens piano concerto with the University Symphony Orchestra, and was a recipient of the Eisner Award. Jason received his masters degree from the San Francisco Conservatory of Music in 2004 where he was a finalist in the SFCM concerto competition, and in the same year a finalist in the Viardo International Piano Competition. As a winner in the American Protege International Piano Competition he performs at Carnegie Hall in May.
| | |
| --- | --- |
| | |
Mezzo-soprano Betany Coffland is a graduate of the New England Conservatory with a masters degree at the Juilliard School. As a resident artist at Opera San Jose she performed Rosina in The Barber of Seville, Cherubino in The Marriage of Figaro and Siebel in Faust. www.betany.coffland.com. Guitarist Aaron Larget-Caplan was born in Oklahoma and now lives in Boston where he teaches at the Boston Conservatory and the University of Massachusetts. He has performed in chamber music and dance ensembles throughout the U.S. and in Spain, Russia and Italy. www.arronic.com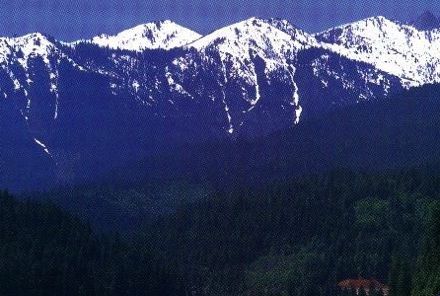 The Trinity Alps Chamber Players is a group of instrumentalists who come together in various combinations to perform programs in the Bay Area and northern California throughout the year and to create a three week summer festival in the Trinity Alps during the summer. Pianist Ian Scarfe is the Trinity Alps Chamber Players founder and director. He has participated in the Astoria Music Festival in Oregon, the Telluride Chamber Music Festival in Colorado, and currently is on the staff of the San Francisco Conservatory of Music. www.trinityalpscmf.org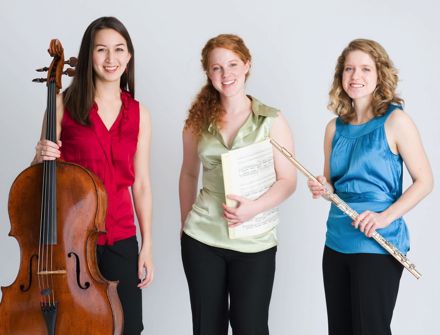 Phonochrome is the name of the a next generation ensemble created by recent graduates of the San Francisco Conservatory. Pianist Allegra Chapman studied at Bard College before earning a masters degree at the Juilliard School and then taking a performance diploma at SFCM. Flutist Elizabeth Talbert is a graduate of Pittsburgh's Carnegie Melon University and now a masters degree candidate at SFCM, and cellist Laura Gaynon gained a bachelor degree at Yale University before earning a professional studies diploma in cello at SFCM. www.phonochrome.org
| | |
| --- | --- |
| | |
Harpsichordist Katherine Heater studied U.C. Berkeley, earned a masters degree from the Oberlin Conservatory with additional early music keyboard studies at the Sweelinck Conservatorium in Amsterdam. Now a Bay Area resident she has performed with Magnificat, Mazzetto, Voices of Music among many others. www.magnificatbaroque.com/katherine-heater. Philadelphia born Amy Brodo studied cello at the Curtis Institute. Moving to Italy she took up Baroque cello and later continued viola da gamba studies in England. She has played cello within the the Maggio Musicale Fiorentino orchestra and the Israel Philharmonic. www.amybrodo.com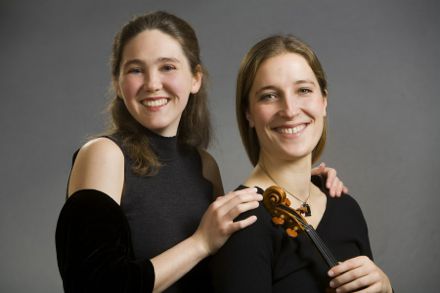 Violinist Monika Gruber and pianist Hillary Nordwell formed the Eusebius Duo in 2005 (Eusebius is Schumann's lyrical pseudonym, his opposite is Florestan). A native of Germany, Monika Gruber studied at the Hochschule for music in Weimar, the Conservatoire National Superieur de Musique' in Lyon and at the San Francisco Conservatory of Music on a Rotary Ambassadorial Scholarship. Born in Washington state Hillary Nordwell is a graduate of Lawrence (WIsconson) Conservatory and earned a masters degree in chamber music and piano at SF Conservatory. www.eusebiusduo.org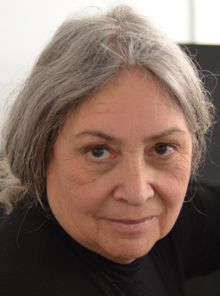 Pianist Ellen Milenski studied with German pianist Bruno Eisner and Berkeley pianist Julian White, and at San Francisco State University with Italian pianist Carlo Bussotti where subsequently she joined the piano faculty. Mme. Milenski now divides her time between her homes in San Francisco and the South of France where she performs as a solo recitalist and as a collaborative artist.