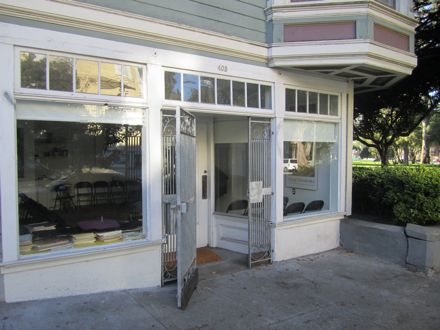 405 Shrader St. (Shrader at Oak)
Concerts at 405 Shrader are at 7 PM (the aperitif hour) and are about 50 minutes in length with a hosted aperitif following
If you wish to attend a concert, an RSVP to its announcement is absolutely necessary (space is quite limited). Reservations can be made only by email to 405Shrader@gmail.com and must be confirmed by 405 Shrader. There is no charge to enter 405 Shrader, however before you leave you will want to express your appreciation to the artist(s) — a minimum of $10 per person.
If you are not already on the mailing list (email only) please write 405Shrader@gmail.com to add your name. Note that concerts begin on time and that there is no late seating.
Fall 2014
Friday, Oct 3, 7 PM. The Grand Polonaise Brillante. Piano virtuoso Daniel Glover plays the famous Chopin polonaise, Schubert-Liszt Wanderer Fantasy, and the Tchaikovsky Scenes from a Russian Village.
Friday, Oct 10, 7 PM. Hair of the Thing that Bit You, a new work composed by Anthony Porter played by Italian guitarist Giacomo Fiore, plus Lou Harrison's Scenes from Nek Chand for resophonic guitar in just intonation, and works for classical, electric and prepared guitars.
Friday, Oct 17, 7 PM. Trinity Alps Chamber Players. Violinist Roy Malan, cellist Stephen Harrison and pianist Ian Scarfe perform the Shostakovich Trio No. 2.
Friday, Oct 24, 7 PM. The Eusebius Duo. Pianist Hillary Nordwell and violinist Monika Gruber perform an all Czech program — works by Dvorak, Smetana and Josef Suk.
Saturday, Nov 1, 7 PM. Three Empty Spaces Filled with Sound. Metteur en scène Roy Rallo creates a Day-of-the-Dead musical installation for 405 Shrader with pianist Ellen Milenski (the Prokofiev War Sonata), tenor Alek Shrader [sic] and baritone Philippe Sly (madrigals by Johannes Ciconia).
Friday, Nov 7, 7 PM. The Beethoven Pathétique. Pianist Laura Magnani plays this famous sonata and works by Chopin and Debussy.
Friday, Nov 14, 7 PM. Zemlinsky, Hindemith and Dallapiccola. Works for cello solo, cello and piano, and piano and voice performed by cellist Adaiha MacAdam-Somers, pianist Dale Tsang and soprano Nanette McGuinness.
Friday, Nov 21, 7 PM. Trio Céleste performs the Dvorak Dumky Trio and the Beethoven Archduke Trio.
Friday, Nov 28, 7 PM. ZOFO Duet Gala, a benefit performance for 405 Shrader! Selections from Zofo's new Sono Luminus Records album ZOFORBIT.
Next Concerts Apr/May 2015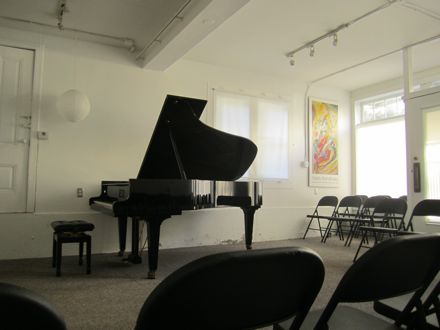 Piano at 405 Shrader, with seating for 44 guests
If you are a non-improvisational musician or performance artist and think you might like to perform at 405 Shrader please email your resume.
For information about 405 Shrader presenter Michael Milenski see www.CapSurOpera.com
Artists of the Spring 2014 Season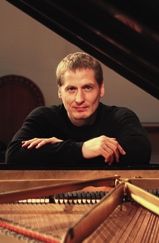 Daniel Glover holds a master's degree from New York's Juilliard School. He took first prize in the prestigious Liederkranz Competition in 1990. His 1992 Carnegie Hall recital debut in New York was the result of winning the Artist's International Competition. Mr. Glover has played recitals in Washington, D.C.'s Corcoran Gallery and at the St. Petersburg Palaces Festival in Russia. Locally he has performed the major concerto repertory with the Saratoga Symphony, the North Bay Philharmonic, the Kensington Symphony, the Red Wood Symphony, and the Palo Alto Symphony among others. www.danielgloverpianist.com
Italian guitarist Giacomo Fiore has performed at Microfest LA, Thingamajigs 2012, and the Cervo Guitar Festival. His recently released fourth recording, "iv: contemporary electric guitars," was funded by New Music USA's Project Grant Program. Giacomo holds a PhD from UC Santa Cruz, his dissertation is on the just intonation guitar works of Lou Harrison, James Tenney, and Larry Polansky. He is on the faculties of the SFCM, UC Santa Cruz, and the University of San Francisco. www.giacomofiore.com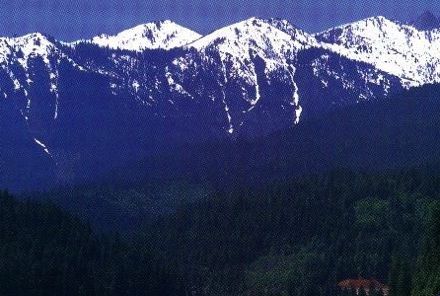 The Trinity Alps Chamber Players is a group of instrumentalists who come together in various combinations to perform programs in the Bay Area and northern California throughout the year. Pianist Ian Scarfe is the Trinity Alps Chamber Players founder and director. He has participated in the Astoria Music Festival in Oregon, the Telluride Chamber Music Festival in Colorado, and currently is on the staff of the San Francisco Conservatory of Music. Violinist Roy Malan recently retired as concertmaster of the SF Ballet orchestra. He teaches at UC Santa Cruz. Cellist Stephen Harrison is a member of the Ives quartet and teaches at Stanford. www.trinityalpscmf.org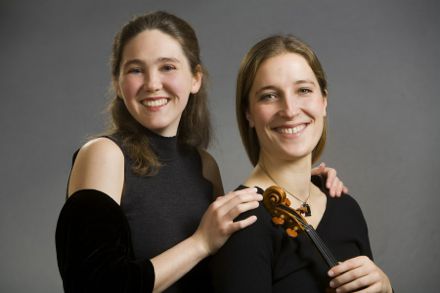 Violinist Monika Gruber and pianist Hillary Nordwell formed the Eusebius Duo in 2005 (Eusebius is Schumann's lyrical pseudonym, his opposite is Florestan). A native of Germany, Monika Gruber studied at the Hochschule for music in Weimar, the Conservatoire National Superieur de Musique' in Lyon and at the San Francisco Conservatory of Music on a Rotary Ambassadorial Scholarship. Born in Washington state Hillary Nordwell is a graduate of Lawrence (Wisconson) Conservatory and earned a masters degree in chamber music and piano at SF Conservatory. www.eusebiusduo.org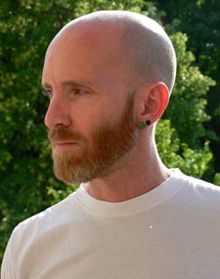 Metteur en scène Roy Rallo is a stage director at San Francisco Opera (most recently The Barber of Seville). He is also known for the so-called "Fire Operas" at Oakland's The Crucile. In Europe he has staged Ariadne auf Naxos for the Opéra National de Bordeaux and Don Pasquale at the Staatskapelle Weimar. www.roy-rallo.com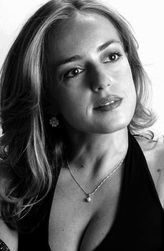 Italian pianist Laura Magnani has performed at the Spoleto Festival of Two Worlds, both in Spoleto, Italy (her home town) and in Charleston, this famous festival's American location. She is a graduate of Rome's Accademia Nazionale di Santa Cecilia with further studies at the Conservatory of Perugia. A newcomer to the Bay Area she has performed at the Noontime Concerts at Old St. Mary's. Upcoming at the Italian Cultural Institute she performs the Liszt/Petrarca Pérégrinages, her husband Lars Primo Angeli recites the poems.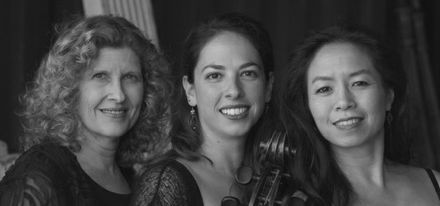 Cellist Adaiha MacAdam-Somers holds a Master of Music in Chamber Music Studies and a Professional Studies Diploma from the SFCM. She has performed with the Philharmonia Baroque Orchestra and Oregon's Astoria Music Festival. Dale Tsang, pianist, was a competitor in the 1997 Van Cliburn Competition, a semi-finalist in the 1999 Washington International Competition and the winner of the 2001 Carmel Music Society Competition. Soprano Nanette McGuinness, a Berkeley PhD, has performed roles with West Bay Opera, Opera San Luis Obispo and Pocket Opera. In concert she has performed with the San Jose Symphony and the Palo Alto Philharmonic.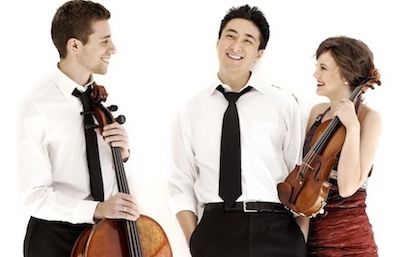 Trio Céleste is currently Ensemble-in-Residence at the Claire Trevor School of the Arts at the University of California, Irvine. Ukraine born violinist Iryna Krechkovsky is a graduate of the Cleveland Institute of Music, and a PhD at SUNY Stony Brook. Cellist Ross Gasworth has a masters degree from the Cleveland Institute of Music. He has played in the symphonies of San Diego and Houston, and was principal cellist of the Waco Symphony and the YouTube Symphony. Korean born pianist Keven Kwan Loucks is a graduate of the Juilliard School, and a PhD at SUNY Stony Brook. www.trioceleste.com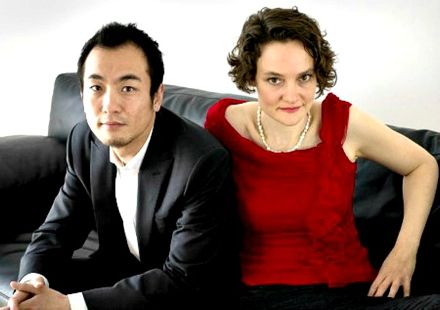 Swiss born and Geneva Conservatory trained pianist Eva-Maria Zimmermann received a Rotary International Ambassadorial Scholarship to the U.S. where she has become a San Francisco resident. She currently teaches at the Nueva School in Hillsborough. Japan born pianist Keisuke Nakagoshi earned a Bachelors degree in Composition and a Masters degree in Chamber Music at the San Francisco Conservatory of Music where he is currently Pianist-in-Residence. Both artists have independent careers as chamber and concerto performers. www.zofoduet.com