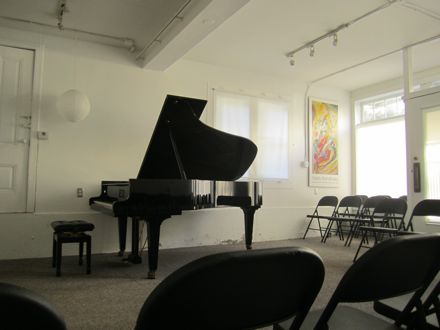 Fellows, Donors and Benefactors of 405 Shrader
What's new at 405 Shrader?
Nothing. More concerts are already scheduled for the spring and fall of 2017 in this dilapidated store front here in the Haight where many of our audience arrive on foot, a few arrive by bicycle and most somehow find parking spaces.
It will always be a casual evening of music and aperitif, and as usual the audience will be asked to reward the musicians with a minimum contribution of $15 if a single performer or $20 if two or more performers. Yes, these evenings remain exclusively for those who somehow find their way to 405 Shrader to enjoy beautiful music, good wine and tasty tidbits, and conversation with the artists and one another.
405 Shrader has been around long enough to become recognized as a sort of egalitarian institution, at least that is the feel we have hoped to create. To help make this happen more officially we have become an official IRS 501 (c) (3), a publicly supported not-for-profit corporation!
Here's why. We want to keep the minimum contribution to the artist well within the means of the casual music lover (and, by-the-way, your generous appreciation of our artists has made 405 Shrader a preferred venue for chamber players).
But still someone must pay rent and lights, tune and repair the piano, maintain and make minimal improvements to the space. Let us not take these expenses from your contributions to the artists!
We have created the Fellows of 405 Shrader. These are you, our audience who would like to participate in the 405 Shrader vision by supporting the basic production infrastructure.
Besides the satisfaction of keeping 405 Shrader what it is and insuring its continuation, here is more encouragement for you to become a Fellow:
You will receive announcement of the upcoming season well before it is announced to the public. Timely response to this announcement assures you of a place at all concerts you choose to attend.
You may reserve as many concerts in advance as you wish (the general public is offered a limited number of selected concerts).
405 Shrader will work with you to be sure you have what you want and need, i.e. move your performance dates, reserve additional concerts, find a place for your friend, etc., without complaint.
Fellows make an annual $100 per person (or $200 if you have frequent guests), $200 per couple tax deductible contribution to 405 Shrader (this covers two seasons — fall/spring or spring/fall). Note that over a full year (16-18 concerts), the Fellows gift prorates to very few dollars per concert.
You will gain additional karma by becoming an Associate Donor of 405 Shrader ($250), a Patron Donor ($500) and achieve maximum karma [!] if you become a Benefactor of 405 Shrader ($1000 and above).
To become a Fellow provide the information requested on the form below to a 405 Shrader board member (Michael Milenski, Ellen Milenski, John Manning, Lucia Bogatay, Ted Lowenberg, Kathe Lange or Larry Seligman). You may telephone this information information to MM at 415 831 4241 or simply mail your information to "Shrader Concerts," 133 Cole St. PMB 133, San Francisco, CA 94117.
Return to 405 Shrader home page
_ _ _ _ _ _ _ _ _ _ _ _ _ _ _ _ _ _ _ _ _ _ _ _ _ _ _ _ _ _ _ _ _ _ _ _ _ _ _ _
Your name(s)
Your address
___ Fellow ($100 single / $200 couple
___ Associate Donor ($250)
___ Patron Donor ($500)
___ Benefactor ($1000 and above)
Make your check payable to 405 Shrader
Or give your credit card number, expiration and security code